Samuel Martinez, DVM, Owner/Veterinarian
University of Maryland
2001
Undergraduate Degree, Animal Science
St. George's University School of Veterinary Medicine
2009
DVM
Dr. Martinez previously worked for Ashburn Village Animal Hospital in Ashburn, Va, Banfield Pet Hospital in Alexandria, VA. He has a special interest in internal medicine and soft tissue surgery. Samuel was born in Nicaraugua and is the father of four teenagers. He has two dogs (Junior & Dumpling) and a cat named John. He enjoys spending time with his kids, running, target shooting, fishing, & cooking for family and friends.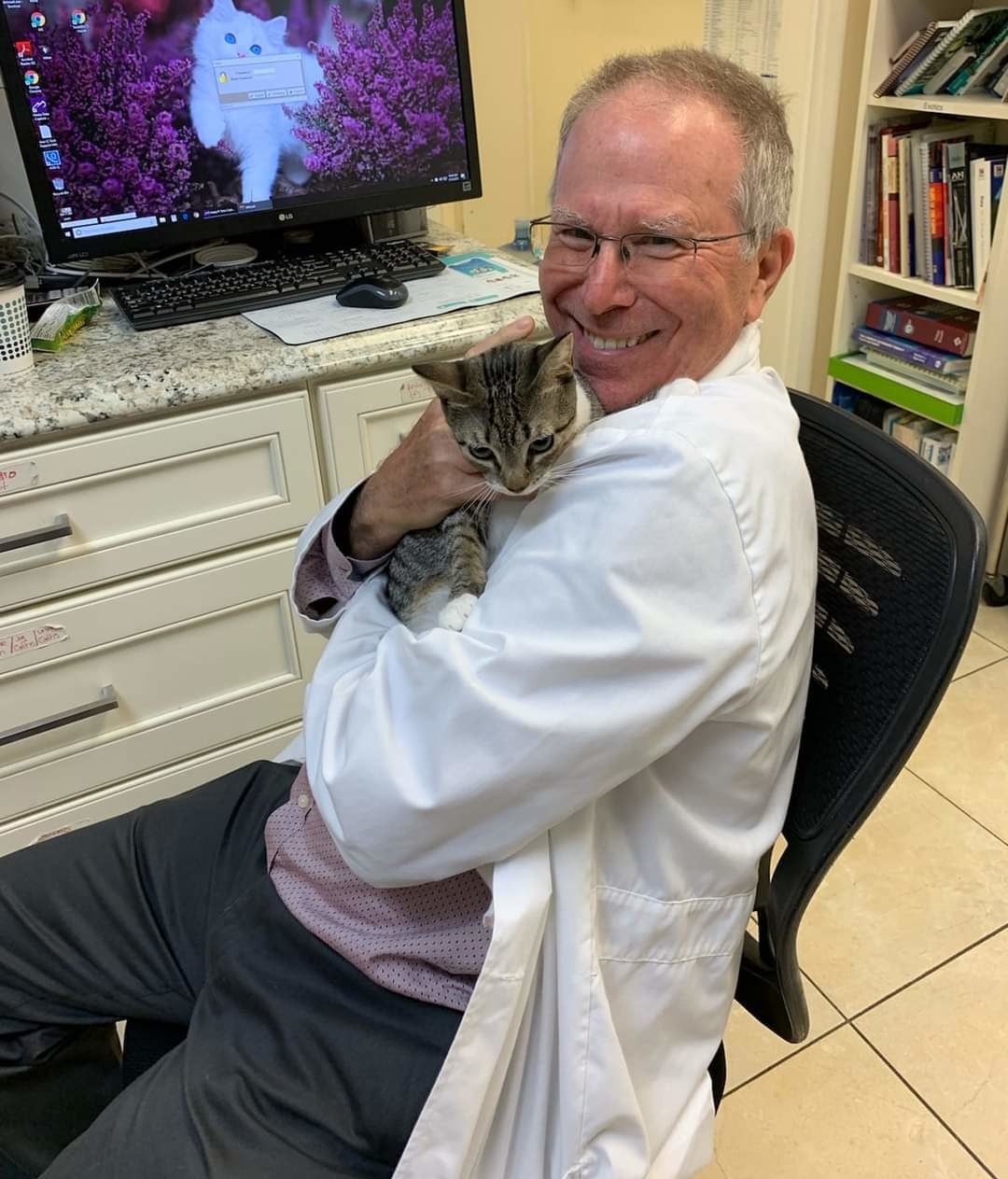 Burton Miller, DVM
University of Vermont
1977
Zoology & Microbiology, Summa Cum Laude
Cornell University College of Veterinary Medicine
1981
DVM
Dr. Miller completed his surgical externship through the ASPCA. From there, he owned two practices in the NYC area. In his free time, he enjoys tennis, hiking, skiing & sailing.
Virginia Martinez, Manager of Operations
Marymount University
1994
Undergraduate Degree, B.A.
Virginia Martinez, wife of Dr. Martinez, was born in Alexandria, VA. She is the proud mother of four young adults. Her previous companion animal work experience was as owner/operator of a successful pet-sitting business in Falls Church, VA. Her favorite things to do are walking her dogs, hiking, skiing, & trying new restaurants with her family.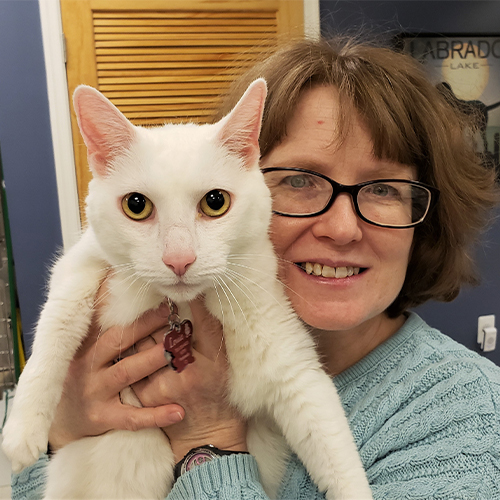 Stacey Shurtliff, Licensed Veterinary Technician
NVCC, Summa Cum Laude
Associate of Applied Science, Veterinary Technology
Stacey came to us after working over a decade in a surgery specialty practice. She has worked for 19 years in small animal medicine and emergency. Stacey is the proud owner of 3 beautiful white cats. She's knowledgeable, reliable, and compassionate. Stacey enjoys volunteering at her local church and rooting for the Nationals, go Nats!
Barbara Villegas, Assistant Practice Manager

Barbara Villegas has been promoted from Clinic Supervisor to Assistant Practice Manager. She comes into this position after much training, many years of experience (at our clinic), and a passion for what she does. Barbara embodies all that sets our clinic apart in this industry and makes our team so special. She is a local in Manassas City. She speaks Spanish fluently because she is originally from Mexico, but the majority of her life has been here in Manassas. She graduated from Osbourn High School with a special interest in mathematics and technology. She loves being around animals, big and small. Barbara loves helping others and caring for the animals. She enjoys listening to music and taking walks through the park during her free time.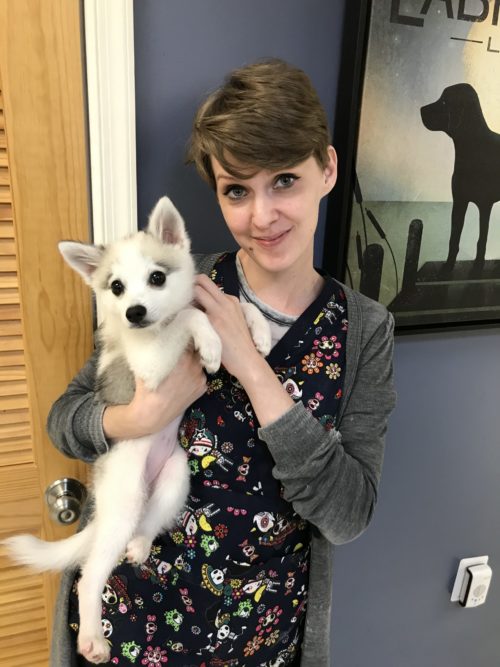 Rachael Nelson, Customer Service Representative/Scribe
Rachael was born and raised in West Virginia and moved to Manassas in June 2021. Her journey in veterinary medicine began in 2012, predominantly working as a veterinary technician before transitioning into the role of a CSR. Animal welfare is extremely important to Rachael, and she is grateful to serve this community.
In her free time, Rachael enjoys spending time with her boyfriend Eric and her cat, Grapes. She's a big fan of Jirani Cafe and loves a warm cup of coffee, cloudy skies, and a good book.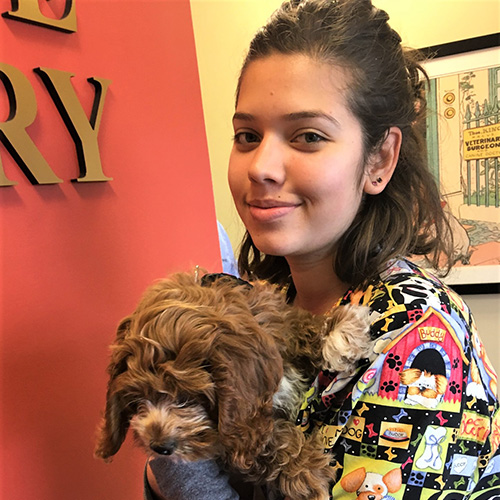 Regina Martinez, Veterinary Assistant & Representative
Regina is currently a full-time student in Animal Science and Research Assistant at Cornell University in Ithaca, NY. On her breaks from school she works at the clinic. She has a special interest in reptiles, cattle, and sheep. She was born in Washington, DC but lived most of her life in Virginia. She enjoys knitting, watercolor painting, skiing, and hiking.

Tanna Pelto, Customer Service Representative
Tanna has been working in the veterinary industry for 7 years. She loves all animals! In her free time, she enjoys listening to music, painting, exploring new restaurants, cooking, and spending time with her 3 cats at home.
Lizbeth Gutierrez-Rivas, Veterinary Assistant
Lizbeth is currently a first-year college student with a 2-year plan to transfer to George Mason. Her goal is to become a certified veterinary technician. During her free time, she enjoys reading, painting & spending time with her family.

Faith Tutko, Clinic Assistant
Faith is a huge animal lover! Her dream as a young child was to one day be able to care for all animals in need. She started several years ago caring for animals at a local pet store. She has since dedicated her life to learning how to care for animals in a medical setting. She enjoys the joys and challenges of working in the veterinary industry. 

She's currently enrolled in the Penn Foster online program to earn her associate degree in veterinary technology. She hopes to one day 

become a licensed veterinary technician. During her free time, she enjoys listening to music, singing, spending time with friends & family, and snuggling with her two bulldogs, Moe & Smokey.